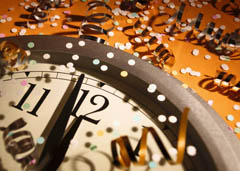 If you are partying this New Years Eve you can really finish your off your look with a set of great looking cosmetic contact lenses.
To complete any fancy dress costume, nothing shows you've put the effort in more than making your eyes match your outfit. We compare the prices of hundreds of special effect contact lenses so you can always make the right choice.
We have many different styles, including vampire, cats eye and anime.
If you are looking for a more subtle effect such as a natural looking eye colour change or simply an enhancing lens that brightens the colour of your eyes, please visit our colour changing lenses or colour enhancing lenses pages. We find the best online UK prices for the major contact lens brands, including Freshlook by CIBAVision and Expressions by Coopervision.
As well as finding you the cheapest UK supplier, we also have further discounts available via voucher codes, including bulk discounts and free delivery. Voucher details are included with the product details in the search results.
Are you looking for?
item
sfx
5
name(a),clicks(d),price(a)
any
All Special Effect Lenses
600
no
pages