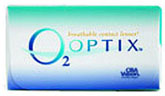 from the AirOptix range
AirOptix Aqua from CIBAVision allow up to 5 times more oxygen (128Dk/t) to reach the cornea than conventional soft contact lenses rewarding you with whiter, healthier eyes and reducing symptons of dryness and irritation and dramatically cutting the risk of more serious conditions such as neovascularization. AirOptix have been CE certified for up to 6 nights of continuous wear or daily wear for up to 1 month. Material: Iotrafilcon B. Power Range: -10.00 to +6.00.
O2 Optix (AirOptix) are often rebranded or also known as 02 Optix, AirOptix, O2 Optix, Specsavers EasyVision Irisian.