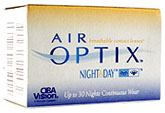 from the AirOptix range
Designed for continuous wear for up to 30 days, AirOptix Night & Day Aqua lenses offer one of the most convenient contact lens solutions on the market today. From CIBAVision, AirOptix Night & Day lenses allow 6 times more oxygen (175Dk/t) to reach your eye than conventional soft disposable lenses, vastly reducing the risk of stromal anoxia even over extended periods. Material: Iotrafilcon A. Power Range -10.00 to +6.00.
AirOptix Night & Day are often rebranded or also known as Focus Night and Day, Specsavers Easyvision All Day - All Night, Specsavers EasyVision Elite.