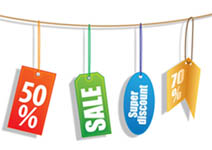 We have a number of discounts available on LensFinder.co.uk, making already great value suppliers even cheaper. Among others we have free shipping with LensWay and Netlens for LensFinder.co.uk customers.

To take advantage of these discounts just use the search form above to find your contact lenses and information will be provided in the results. For most suppliers in the results you are required to take note of a discount voucher code then visit the supplier's site by clicking the More Info button. You would then enter the voucher code at checkout.

For Netlens all you have to do to get free UK shipping is visit the Netlens site via LensFinder.co.uk (clicking the More Info button for Netlens). Netlens know you are a LensFinder.co.uk customer and apply the free delivery discount automatically - that's a saving of £5!

If you are having trouble with any of the voucher codes listed in our search results please let us know via the Give Feedback link in the bottom right of the screen.