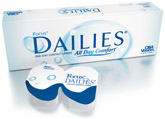 from the Focus range
Focus Dailies from CIBAVision benefit from breakthrough "Lightstream Technology", a unique manufacturing process facilitating a smooth, clean edge for maximum comfort. Replaced every day, Focus Dailies eliminate the hassles of cleaning and storage. Often rebranded by opticians, Focus Dailies offer simplicity, flexibility and comfort. Material: Nelfilcon A. Power Range: -10.00 to +6.00.
Focus Dailies are often rebranded or also known as Boots Daily Disposable (New and Improved) (Diam 13.8), Ciba Dailies, Conlons Mirage Dailies, Eye Clinic Daily Vision (Diam 13.8), FCUK Daily Contact lens, Focus Dailies All Day Comfort, Specsavers EasyVision 1 Day (Diam 13.8), Specsavers Encore.