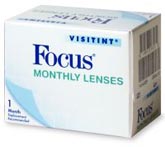 from the Focus range
Focus Monthly Visitint from Ciba Vision are designed to be cleaned and disenfected nightly and replaced each month with a new pair. Focus Visitint have a water content of 55% to ensure a comfortable experience and benefiting from CIBAVisions patent protected Visitint technology are easy to handle and use. Material: Vifilcon A. Power Range: -15.00 to +6.00.
Focus Visitint are often rebranded or also known as Focus Monthly, Focus Monthly Visitint.