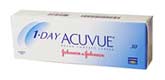 from the Acuvue range
1 Day Acuvue offer all the benefits of a daily disposable lens - no maintenance, no cleaning solutions and no bulky lens cases. Add to this UV blocking offering protection against 82% of UVA and 97% of UVB radiation and you can be confident of a safe and hygienic experience. Manufactured by Johnson and Johnson, 1 Day Acuvue lenses are recommened for allergy sufferers and guarantee the flexibility and convenience you demand. Material: Etafilcon A. Power Range -12.00 to +6.00.
1 Day Acuvue are often rebranded or also known as One Day Acuvue.