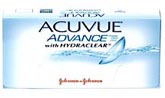 from the Acuvue range
Designed for those who have experienced discomfort with their lenses in the past and manufactured from Hydraclear, a proprietary technology from Johnson and Johnson. Acuvue Advance also incorporate a wetting agent to provide a silky, soft experience which is truly unique. The inside out mark and visibility tint will assist you in the correct insertion of these lenses on all occasions. Acuvue Advance block an enormous 90% of UVA and 99% of UVB the highest of the entire Acuvue range combined with a 100% satisfaction guarantee. Material: Galyfilcon A. Power Range: -12.00 to 8.00.
Acuvue Advance are often rebranded or also known as Acuvue Advance with Hydraclear.