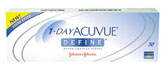 from the Acuvue range
A new concept in contact lens design, 1 Day Acuvue Define contact lenses are available in two distinct styles. Each will make your eyes look more beautiful and brighter naturally and with the subtlety to guarantee that noone will know.
Acuvue Define Accent Style feature a dark ring which overlays the limbus (boundary) between the iris and sclera. The ring is designed with a diamter slightly larger than the average iris, making your eyes look larger and enhancing the definition and natural beauty of your eye.
Acuvue Define Vivid Style feature brown spokes delicately designed to enhance and define the natural pattern of your iris. Your eyes will look more alive and add vibrance and expression to your look.
Johnson and Johnson have made sure that 1 Day Acuvue Define maintain the common benefits you have come to expect from Acuvue contact lenses. Each lens incorporates UV blocking technology absorbing up to 97% of UVB and 82% of UVA bands ultraviolet light. Lenses are available in Plano (zero power) and prescription alternatives.