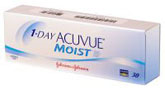 from the Acuvue range
Acuvue are confident enough in this lens to offer a 100% satisfaction guarantee! Do your eyes feel dry and irritated at the end of a long day? If so then 1 Day Acuvue Moist is the lens for you. Each lens contains a moisture rich ingredient for long lasting comfort and freshness. 80% of users report no need for re-wetting drops. Recommended for allergy sufferers 1 Day Acuvue Moist by Johnson and Johnson also offer UV protection, blocking a massive 82% of UVA and 96% of harmful UV radiation. If you are looking for convenience, exceptional comfort and the range of health benefits associated with single wear lenses then this could be your ideal solution. Material: Etafilcon A. Power Range -12.00 to +6.00.
1 Day Acuvue Moist are often rebranded or also known as One Day Acuvue Moist.