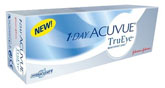 from the Acuvue range
New from Johnson & Johnson, 1 Day Acuvue TruEye is a breakthrough in contact lens technology. Offering 98% oxygen permeability and a revolutionary moisturising agent via its Hydraclear Technology, 1 Day Acuvue TruEye exceed the performance of most other lenses.
These lenses are made from the latest silicone hydrogel material - Narafilcon A which, with its high oxygen transmissibility allow many hours of use with minimal dryness or redness.
As well as having the visibility tint common to Acuvue lenses, 1 Day Acuvue TruEye has an exceptionally high UV blocking ability at 96% (minimum, UVA) and 99% (minimum, UVB).