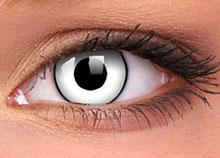 White contact lenses look great with Halloween outfits. They perfectly compliment zombie or vampire costumes.
White lenses are available in a variety of styles. This includes lenses that cover the pupil. These make your eye appear completely white but you will be unable to see while wearing them. They are often used in photoshoots or theatrical situations.
We also have a page for Halloween contact lenses and general special effect lenses.
item
sfx
5
name(a),clicks(d),price(a)
white
White Contact Lenses
600
no
pages