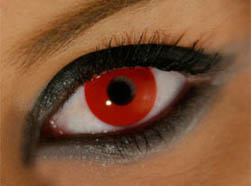 Red contact lenses are perfect for any scary Halloween costume because they fit with so many different styles. Vampire, demon and zombie costumes (to name only a couple) will all be enhanced by the addition of red based contact lenses.
Primarily red contact lenses are shown below. Alternatively, see the Halloween contact lenses page for the full range of lenses that are perfect for Halloween. If you are looking for other colours please see the coloured contact lenses page.
We also have a page for Sharingan contact lenses, as well as one for anime lenses in general.
item
sfx
5
name(a),clicks(d),price(a)
red
Red Contact Lenses
600
no
pages