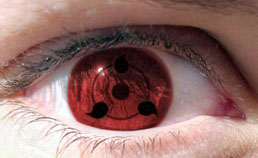 Get the Uchiha clan look with Sharingan style contact lenses. These anime/manga lenses are an extremely popular choice for fans of the Naruto series.
As well as Sharingan contact lenses, we have a page for anime contact lenses in general.
If you are looking for lenses for a Halloween costume please see the Halloween lenses page, or the special effect lenses page for all special effect contact lenses.
item
sfx
6
clicks(d),price(a)
sharingan
Sharingan Style Contact Lenses
600
no
pages