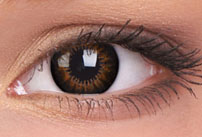 Brown contact lenses are available as colour enhancing, colour changing and special effect designs.
Colour enhancing lenses help brighten naturally brown eyes by having a subtle pattern printed on the surface of the lens. Please visit our colour enhancing contact lenses page for the full range.
Colour changing lenses have a stronger design, effectively changing the apparent colour of the eye to observers. Brown colour changing lenses are available via our colour changing contact lenses page.
Several special effect lenses are based on a brown design and are shown below. To view all special effect contact lenses please go to the special effect lenses section.
item
sfx
5
name(a),clicks(d),price(a)
brown
Brown Contact Lenses
600
no
pages