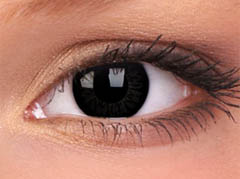 Black contact lenses are great for many types of costume, such as vampire, alien or monster.
We list a range of black contact lenses. Some are a simple black colour and others are black with a design. There are typically sized contact lenses that cover the iris but also larger lenses that cover the sclera (white part of the eye), making your eyes appear completely black.
For other colours please see the coloured contact lenses page. We also have a page for Halloween contact lenses in general.
item
sfx
5
name(a),clicks(d),price(a)
black
Black Contact Lenses
600
no
pages