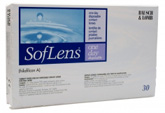 from the Soflens range
Soflens One Day have an exceptionally high water content (70%), combined with deposit resistant material they offer the ultimate in all day comfort. As a daily disposable lens you will also enjoy the ease of use. No cleaning is required and at the end of the day just throw away your old lenses and replace them with a new pair in the morning. Manufacturer: Bausch and Lomb. Material: Hilafilcon A. Power Range: -9.00 to +6.0.
Soflens One Day are often rebranded or also known as 1 Day Soflens, David Clulow Optiview Daily Disposable (Diam 14.2), Dollond and Aitchison Daily Disposable (Diam 14.2), Specsavers EasyVision 1 Day (B&L), Specsavers Encore Daily Disposable (Diam 14.2) (B&L), Vision Express Daily (VE Daily) (Diam 14.2).