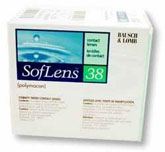 from the Soflens range
Soflens 38 from Bausch and Lomb are monthly disposable lenses previously sold under the brand name Optima FW. Soflens 38 combine an ultra thin design, visibility tint and inversion indicator for exceptional comfort and handling. Soflens 38 are reeistant to deposit buildup to provide superb vision. Material: Polymacon. Power Range: -9.00 to +4.00.
Soflens 38 are often rebranded or also known as Optima FW.